Description:

Our Ethernet Slip Ring provides 10M, 100M or 1000M Ethernet communication and other electrical signal and power transmission between the stationary and rotating platforms.
With superposition of the channels along the axial direction, adopting gold to gold multi-points contact with least friction coefficient, contact resistance and resistance fluctuation.
With RJ45 connector or round connector for quick and convenient connection.
The through bore can be realized at the axis center.
With excellent insulation and shielding for signals and power transmission.

Features:

Compact design with small size and dimension.
Reliable signal transmission.
Can be integrated with optical fiber, RF, liquid (gas) rotary joints.
Maintenance-free during working life.

Typical Applications:

Ethernet Video Transmission.
Ethernet Power Supply.
CCTV IP Monitoring and Control System.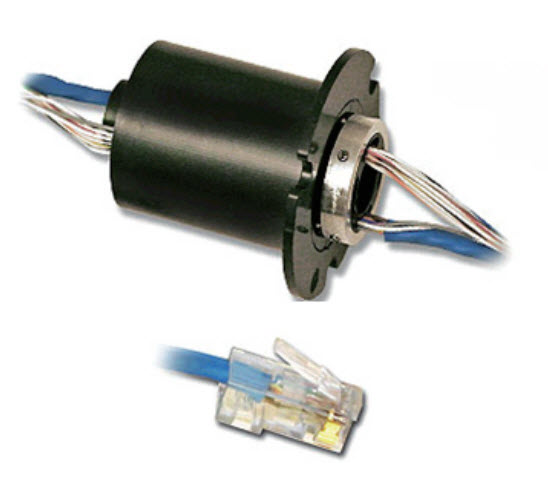 Parameters:
Standard

Options

Environmental Parameter

Enclosure

IP40

IP67

Operating Temperature

-40℃~+60℃

/

Operating Humidity

≯95%

100%

Ethernet Parameters

Signal types

10Base T/ 100Base TX/100base T2/ 1000Base T

Rotary Rate

0~100rpm

200rpm

Central Through Bore

≤80mm (GbE), ≤200mm (MbE)

Life(*)

≥8 million r

≥20 million r

* Depends on product application
A slip ring is an electromechanical device that allows the transmission of power and electrical signals from a stationary to a rotating structure. Also called a rotary electrical joint, collector or electric swivel, a slip ring can be used in any electromechanical system that requires unrestrained, intermittent or continuous rotation while transmitting power and / or data. It can improve mechanical performance, simplify system operation and eliminate damage-prone wires dangling from movable joints.
Our high-performance slip rings are designed for use in a wide range of high-end OEM applications. We pride ourselves in our ability to provide the right solution for the right application of slip rings. We develop, manufacture and market electrical slip rings for power and signal transmission, rotary unions/joints, hybrid rotary transmissions units, fiber optic rotary joints (forj), rotary / linear encoders and RF rotary joints with the collaboration of our partners technologies of industrial applications. Our goal is to match customers requirement of slip rings through high quality products, competitive prices and prompt reliable services. To be a leading company in the field of slip rings, our aim is to fulfill our offers on exact time and perfect quality, by satisfying our customer's demand of slip ring efficiently.