Description of our ethernet slip ring:

Our Ethernet Slip Ring provides 10M, 100M or 1000M Ethernet communication and other electrical signal and power transmission between the stationary and rotating platforms.
With superposition of the channels along the axial direction, adopting gold to gold multi-points contact with least friction coefficient, contact resistance and resistance fluctuation.
With RJ45 connector or round connector for quick and convenient connection.
The through bore can be realized at the axis center.
With excellent insulation and shielding for signals and power transmission.

Features of our ethernet slip ring:

Compact design with small size and dimension.
Reliable signal transmission.
Can be integrated with optical fiber, RF, liquid (gas) rotary joints.
Maintenance-free during working life.

Typical Applications of our ethernet slip ring:

Ethernet Video Transmission.
Ethernet Power Supply.
CCTV IP Monitoring and Control System.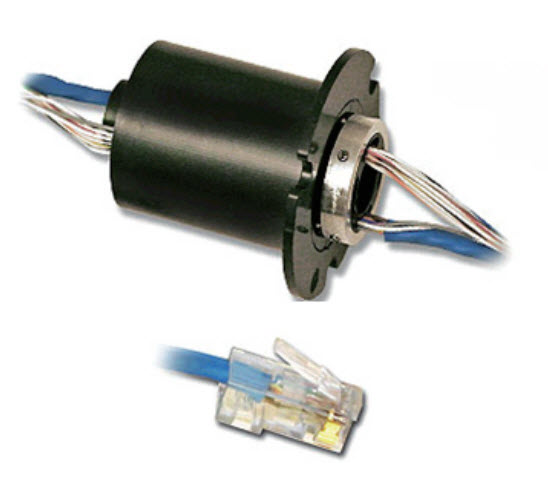 Parameters of our ethernet slip ring:
Standard

Options

Environmental Parameter

Enclosure

IP40

IP67

Operating Temperature

-40℃~+60℃

/

Operating Humidity

≯95%

100%

Ethernet Parameters

Signal types

10Base T/ 100Base TX/100base T2/ 1000Base T

Rotary Rate

0~100rpm

200rpm

Central Through Bore

≤80mm (GbE), ≤200mm (MbE)

Life(*)

≥8 million r

≥20 million r

* Depends on product application
Our high-performance slip ring products are designed for use in a wide range of high-end OEM applications. We pride ourselves in our ability to provide the right precision solution for the right application. We produce a wide variety of electric motors and slip ring assemblies, including miniature capsule slip rings, through hole slip rings, RF slip rings, compound slip rings, split slip rings, large power slip rings, deep water slip rings, ethernet slip rings, and etc. Our substantial product offering enables us to address all slip ring applications. China TrueSci offers quick, cost-effective customization of our products to meet your unique specifications.